Grants
Virginia Supportive Housing: Helping People "Move On" to Positive Places in Life
December 01, 2020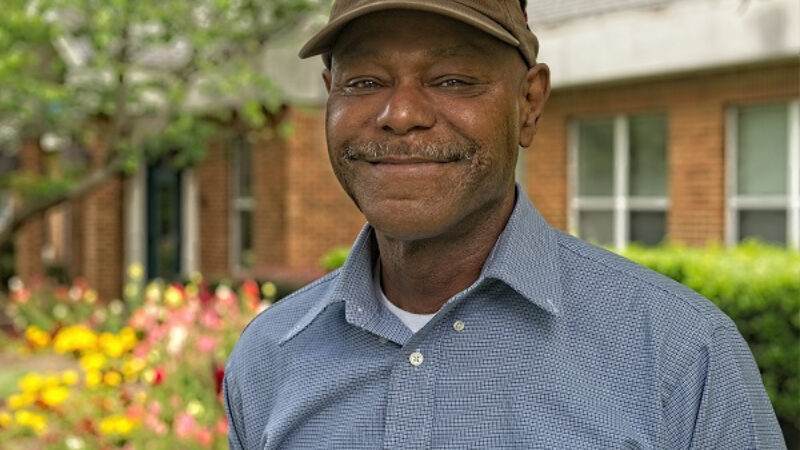 George Stroud is enjoying his role as a Move On ambassador for Virginia Supportive Housing. He is happy to encourage other people overcoming homelessness to follow in his footsteps and become self-sufficient. "If I can do it, you can do the same thing I did," he likes to tell them.
Stroud, who worked for nearly 15 years as a New York City exterminator, moved to Hampton Roads in 1998 to be near relatives. He worked as a security guard before losing his job and becoming homeless in 2012. After staying at the Union Mission for six months, in 2013 he moved into Heron's Landing, a new Virginia Supportive Housing community in Chesapeake for people experiencing homelessness.
Stroud lived in his VSH studio apartment for seven years and worked with staff members to master budgeting, accessing housing vouchers and life skills. In January 2020, he settled into his own home in a Norfolk senior community surrounded by tall trees and flower gardens. "I definitely wouldn't be where I am without their help," he says of VSH.
Stroud credits VSH's Move On program and the VSH staff for helping him achieve his latest accomplishment. The program was funded by a three-year $180,000 grant awarded in 2018 from the Hampton Roads Community Foundation's William A. and Jane M. Charters Fund for basic human needs. Stroud is among 29 Move On participants in Hampton Roads who have graduated from supportive housing to living independently, which is considered a national best practice for people who have been homeless. VSH staff stay connected to Stroud and other participants via monthly check-ins to make sure they are doing well and to assess any needs.
Since 2006, VSH has worked in Hampton Roads to end homelessness by providing safe, permanent housing. On staff are social workers and other employees who make sure residents have access to food, healthcare and available government benefits. The Richmond-based nonprofit operates six supportive Hampton Roads communities housing more than 400 people in Chesapeake, Norfolk, Portsmouth
and Virginia Beach. Over the past 14 years, the community foundation has provided more
than $2.3 million in funding so VSH could build apartments and add programs to benefit residents.
Allison Bogdanovic, VSH executive director, is pleased that more than 95% of its participants do not return to homelessness. Adding the Move On program allows "residents to live more independent lives," she explains. It also frees space in supportive communities for more people facing homelessness to live.
Now that Stroud is settled, he is seeking employment through an AARP Foundation program for older workers. With an ability to sing both tenor and bass, he enjoys sharing his talents at church and through karaoke. And, he looks forward to inspiring VSH residents as they find their own paths to successfully moving on life.