Scholarships at Hampton Roads Community Foundation
Helping college students pay for their education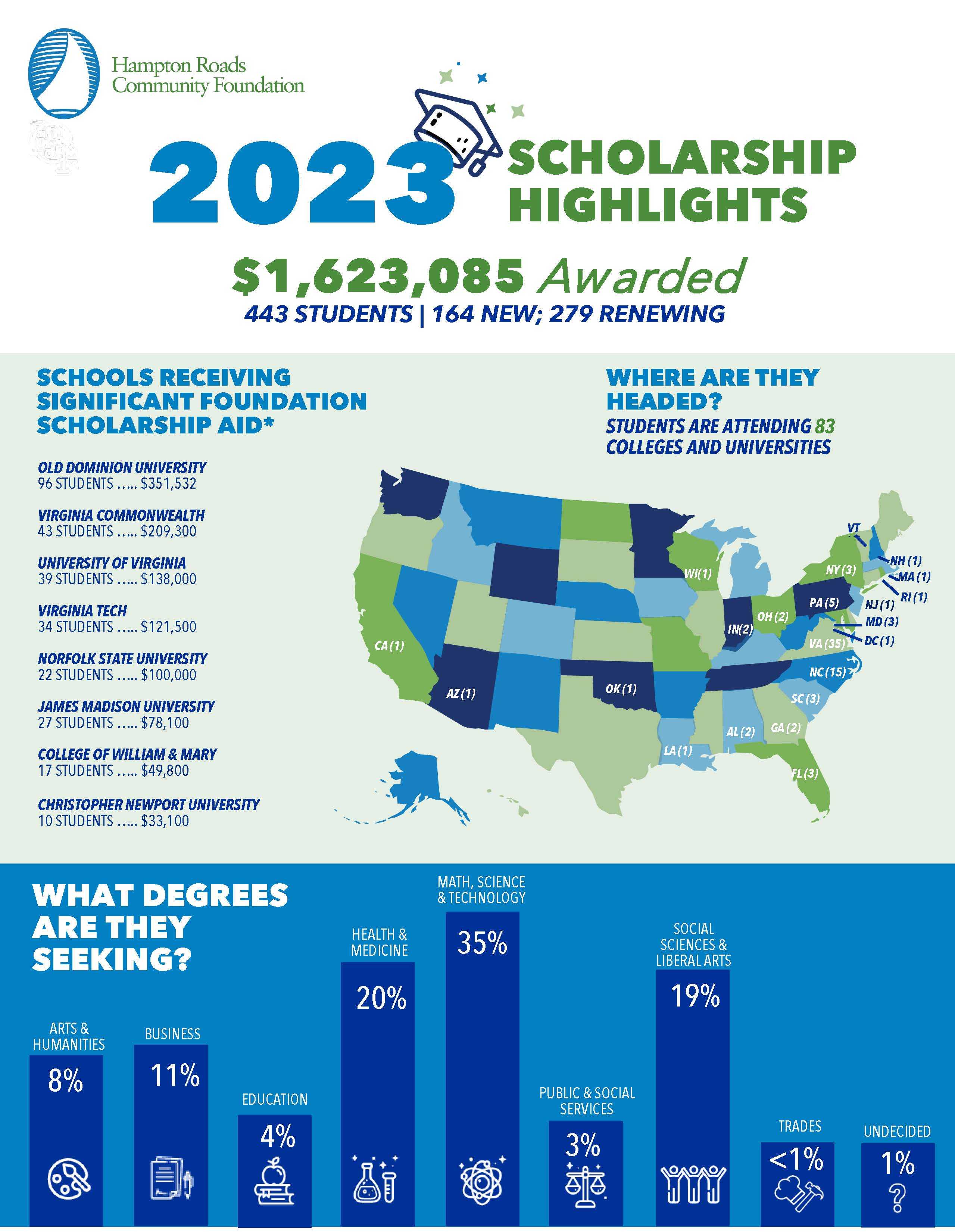 2023-24 SCHOLARSHIP HIGHLIGHTS
In 2023, we awarded over $1.6 million in scholarships to 443 students attending about 83 colleges and universities during the 2023-24 academic year. View our infographic to learn where these students are attending school, what degrees they're seeking and the schools receiving significant foundation scholarship aid.
College scholarships are a mainstay at the Hampton Roads Community Foundation. Since 1950 charitable people have established more than 90 scholarship endowments. As a result, the Hampton Roads Community Foundation is southeastern Virginia's largest scholarship provider, awarding more than $22 million since 1950 to approximately 4,550 students – most of them for four years of study. For the 2023-24 school year alone, we provided over $1.6 million to help 443 students go to college.
If you are a student looking for financial help, we encourage you to read the list of scholarships that are relevant (e.g. undergraduate vs. graduate) and how to apply online. We may well have something for your special talents.
If you are one of our current scholarship recipients, please check out Information and Forms for Current Recipients for rules and information on requesting scholarship renewal, deferral, transfer or study abroad.
If you'd like to start your own scholarship fund or contribute to one, please check out Scholarship Stories and Start a Scholarship Fund.
We offer two main categories of college scholarships:
We also have Other Scholarships we administer but are not ones that you apply for here. Be sure to check them out, too.
Like our Facebook scholarship page to stay up to date on deadlines, college and career advice, and other scholarship opportunities.