Philanthropy
Future Bequest Donors Cindy Cutler and Craig Haines
Future bequest donors Cindy Cutler and Craig Haines plan for an unrestricted gift because they can't predict future needs of the community they care about.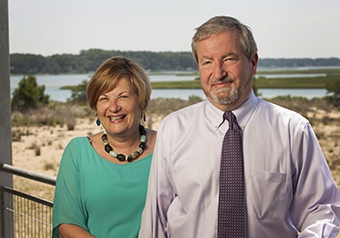 Cindy Cutler and Craig Haines know they can't predict the future. That is why the Norfolk couple has arranged for an unrestricted bequest through the Hampton Roads Community Foundation. Cindy and Craig grew up in Hampton Roads and have enjoyed careers in the mortgage and insurance businesses. They are involved in organizations ranging from WHRO and Toastmasters International to the Hampton Arts Foundation, Equality Virginia and Hampton Roads PRIDE.
When the couple married more than 20 years ago they drew up wills and "put in our favorite charities," Cindy says. As they got involved with new causes, "we kept doing handwritten codicils to update our wills," she says. Then the couple discovered the Hampton Roads Community Foundation. "The charities we were fond of, you were giving grants to. You were supporting causes we believe in," Cindy says.
She and Craig arranged for a future unrestricted fund at their community foundation that will support a variety of nonprofits. "In any way we can give back to our community, we are happy to do so," Craig says.
"People are not good at planning for dying," Cindy says. "Baby boomers need to make plans or someone else will do it for them."