Foundation Insights
Anchoring Our Region: A Special Message from our President & CEO and Board Chair
September 02, 2020
A Special Message from Hampton Roads Community Foundation leaders Dr. Deborah M. DiCroce, President & CEO, and Jim Squires, Board Chair.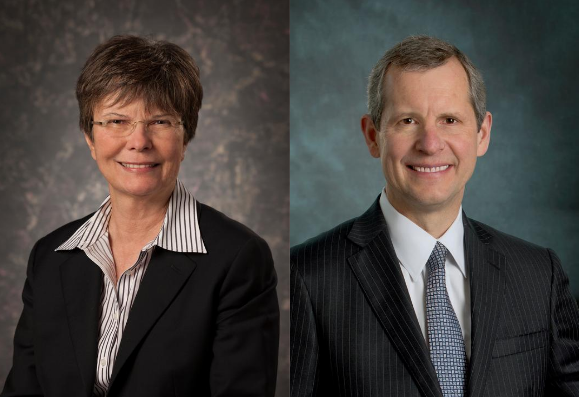 "Permanent as the ocean. Changing as the tide."

This long-ago description of our community foundation still resonates today as we celebrate 70 years of philanthropy in Hampton Roads.
The civic leaders who gathered $2,350 to start our community foundation in 1950 could not predict future challenges. However, they knew like all growing regions, ours would face what they called "constantly changing social, educational and economic problems."
They created The Norfolk Foundation, Virginia's first community foundation, as a permanent endowment to benefit forever the region the founders identified as Norfolk and a 50-mile radius.
In 1987, other civic leaders created The Virginia Beach Foundation, a community foundation to benefit Virginia Beach and the Hampton Roads region.
In 2010, the two neighboring community foundations joined forces to create the Hampton Roads Community Foundation – the region's largest grant and scholarship provider.
The centerfold of this annual report features a 70-year timeline highlighting the more than $301 million investments made in our region thanks to donors from all walks of life. On the timeline are Eastern Virginia Medical School, the Foodbank of Southeastern Virginia and the Eastern Shore, Beach Health Clinic, ACCESS College Foundation and many other area nonprofits started with help from the community foundation.
Over the decades, grants have helped hundreds of area nonprofits grow and expand services. Leadership initiatives have tackled issues ranging from improving early care and education to reinvigorating our regional economy and advancing civic engagement. In addition, scholarships have helped thousands of students prepare for bright futures.
While the annual report focuses on a 70-year retrospective and 2019 highlights, we cannot ignore what is going on now regarding the COVID-19 pandemic and racial injustice.
Already, the community foundation has joined with the United Way of South Hampton Roads to provide COVID-19 relief grants to area nonprofits helping people with food, shelter, essential needs and mental health care. We are awarding additional stabilization grants to help area nonprofits impacted by the coronavirus' financial ripple effects.
Facing this page, you will see the Racial Equity Statement our community foundation adopted in 2019. It already shapes our growing work in diversity, equity and inclusion. This important effort continues as we examine our work internally and externally through the lens of diversity, equity and inclusion.
As the tide shifts and changes over time, we are confident the Hampton Roads Community Foundation will continue to respond to the region's future challenges and opportunities to make life better in Hampton Roads.