In the Community
Helping Others: $264,650 in Grants to 6 Nonprofits
September 28, 2016
The late William Goldback and Perry and Bunny Morgan have a lot in common.
These forward-thinking Hampton Roads citizens cared deeply about people in the region of Virginia where they lived and worked for so many years. Thanks to their charitable bequests they left behind permanent field-of-interest funds that underpin important grants through the Hampton Roads Community Foundation.
Perry Morgan of Virginia Beach, who had been publisher of The Virginian-Pilot, died in 1999 -- seven years after his wife Bunny. The charitable focus he requested includes essential human services as well as arts and education.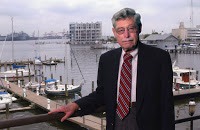 Bill Goldback of Norfolk, a former Navy supply officer and owner of Atlantic Electric, left a legacy that funds medical services, education or research as well as the performing arts.
Thanks to generous community foundation donors who have entrusted us with unrestricted funds, six area nonprofits received $264,650 in community grants. Grants focused on health and human service and included:
Building Trades Academy - $10,950 to train and place 15 low-income area students in facility management jobs.
Chesapeake Care - $81,500 over three years for a program to help more than 200 low-income Chesapeake patients manage their diabetes.
Community Housing Partners - $67,200 to provide financial education and other services to 828 low-income area households whose residents face eviction.
Healing Place of Hampton Roads - $50,000 in seed funding for a new regional program to help area homeless adults overcome drug or alcohol addiction.
Hope U Inc. - $40,000 over three years for a program to help area youth who have aged out of the foster-care system obtain job skills and become self-sufficient.
Mercy Medical Angels - $15,000 to buy bus or train tickets or gas cards to help low-income sick children and their families travel for specialized medical care not available in Hampton Roads.
Learn more about other grant opportunities as well as how you can turn your passion into reality.